During this holiday season ROSE held our first Holiday Game Giveaway for our members with 56 Steam game keys given to us as part of the Jingle Jam charity drive, which provides donors with a handful of game keys in exchange for a $60 donation to a participating charity.

We donated our $60 to ILGA World, a "worldwide federation of more than 1,700 organisations from over 160 countries and territories campaigning for lesbian, gay, bisexual, trans and intersex human rights".

To enter our giveaway, we gave our member's a simple task; submit some kind words to be shared with our members and the world. Here's what they had to say!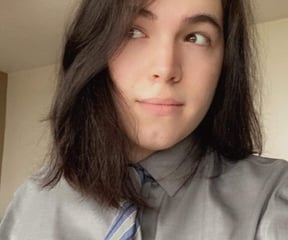 "The past year has been difficult, but the community we've built with ROSE has made every moment delightful. I cannot wait to see what we and our members can accomplish in the new year, happy holidays!"
- Christian Wright, Lead Coordinator
"Please never stop being you!"
"Despite everything— it's still you. Remember that no matter what happens this holiday season, you're still you, whatever that entails, and you is beautiful."
"Thank you so much for this wonderful opportunity and thank you for everything you lovely folks host and do for us and the community as a whole! It's people like you that can help our community feel safe and welcome <3"
"A reminder that your family doesn't hold more rights to your time or energy just because it's the holidays! If they become negative for your mental/physical health, it's perfectly ok to spend your holidays somewhere else, where you can be happy!"
"I know it's been rough this year at the best of times but you're tough and you've got this! You've got a win streak in the thousands of days with no slowing down in sight. Give yourself a pat on the back and remember that tomorrow brings more than you could ever imagine."
"Deep breath in, deep breath out. Even if life get's hard, you've got this. Look how far you've come, your hard work and persistence pays off. Keep at it, everything will work out"
"Thanks for making ROSE a safe and fun space to chat about all things LGBT+! :)"
"Thank you to all the members of ROSE for the constant support, encouragement, positivity, and love. To have such a vibrant community in this city for folks to come to for support is absolutely essential to have, and everyone deserves a place like this to learn and thrive. As tough as life can get living in a world that constantly wants to hurt you and put you down, I see such defiance of this with ROSE. The inspiration is endless, and I am so grateful to be apart of this wonderful group <3"
"I know it's been hard this year. But it's always been hard, hasn't it? It's always been hard, and yet you've made it through. And I'm so, so proud of you. Yes, you specifically. It may not have been glorious, or glamorous, or anything like what you were expecting, but you're here. We're here, we've made it through, and we're gonna keep going. The road ahead might be tough, but so are you. Go out there and show the world what you're made of!"
"Love Y'allll, remember to brush your teeth!"
"Love you all, you're all wonderful :))"
"Hi everyone! No matter who you're with over the holidays, just know you are loved and accepted by all of us here. I know how tough it can be sometimes but we're all here if you ever need a friend. <3"
"Hey everyone!!! I believe in y'all! You WILL get through this!!"
"Be yourself! It's the best gift you can give those around you <3"
"Figuring yourself out is hard! If you change your mind on what label you use, or even don't use labels at all, that's totally fine and valid! It's your life!"
"If you feel like no one believes in you, know that I do. And I hope you have a wonderful day, whenever you read this :)"
"Love all of you, let's have a good new year!"
"I hope everyone is able to get through the winter break with as much joy as possible!"
"Everyone is wonderful and welcoming and friendly and great!"
"Y'all make me feel so welcome and safe… y'all are the greatest community I've been a part of!!! Thank you so so so much <3"
"And remember that bad times are just times that are bad" - Katrina Animal Crossing"
"Every single one of you is lovely!"
"Everyone I have met in ROSE have been super welcoming and nice. It's been really refreshing and makes the online experience at Carleton feel worth it."
"ROSE has been an excellent resource for me. When I joined initially it was just to find some very specific information. I didn't realize that I'd meet and become friends such an amazing group of people. Thanks & Happy Holidays."
"Best of luck in 2022! Stay wonderful everyone!"
"It always gets better. Just be true to yourself, and eventually the right people will come to love you for who you are. We are a strong community that has each other's backs, so if you feel alone, know that you have people here who care about you. You are beautiful and resilient."
"No matter how hard things get, just remember that these hardships are merely pebbles you're stumbling upon. You'll walk again, soon. You always do."
"You are all valid in your identities! i am thankful for your courage to be as open as you are –whether you are soaring out of the closet or getting ready to take a step out. you make the world an interesting and wonderful place <3"
"You are good, you are lovely and you are kind. You are my adopted family"
"2022 will be great, you got this!"
"Hello ROSE !!!! You are fantastic and I am proud of you for getting through this year. <3 Be kind to yourself, I love you"
"I appreciate the love, friendship, and community that ROSE and its members provide and I hope that they continue to do so as the community grows!"
"Happy Holiday's everyone! Everyone on ROSE has been so spectacular and wonderful and I am glad that I have had this opportunity to meet you all!"
"You are all lovely people"
"I haven't been super active in the server lately, but I want you to know how wonderful you all are and how much of a difference you made in my life during one of my most difficult years. I'm so happy to still know you all, even though I haven't talked with you in a while. Keep doing what you're doing - seeing ROSE grow has been absolutely wonderful, and I know you'll continue to do amazing things!
"Hewwo. If you're feeling sadge, there's loads of sad friends at Rose and we can all be sadge together and that has to be better than being sadge all alone uwu."
"I am from a small town where nothing positive happens to the LGBTQIA community, but since moving here I have had nothing but positive experiences, and it is all thinks to this group and its members. I am grateful for the positive words and amazing people I have met and revived. I wish everyone a good winter, and I can't wait to continue my friendships and to meet more amazing people!"
"Hope all you wonderful people have a great 2022 filled with support, good people, and kindness :)"
"ROSE is filled with nothing but amazing people who are doing there best and are usually helping out others which I appreciate, thank you for being an awesome community!"
"Y'all are all so awesome and supportive that I am inspired to be, and feel safe(r), being the person I know I am when I am within the ROSE community space."
"You deserve to be here, to be happy, and to be surrounded with people who support you. Be kind to yourself and remember that you have value and are worth so much no matter what <3"
"Thank you for being such a welcoming and kind family. This server brought me a home away from home and I know with no doubt it has for other people and I hope to be part of that for a long time."
"First of all, I will like to say Happy Holidays to everyone and I hope everyone gets alot of rest since it is exam time. I am glad there is a community that allows others to be themselves. I know 10 years ago when I was coming out as pansexual I received alot of judgement especially from family members. Never apologize for being yourself and just know that you are not alone."
"Every single one of the members of ROSE are valid and loved. I truly admire each and every member, who despite hardships, always stay true to themselves and never compromise their authenticity for anyone. Seeing all the members talking amongst one another, always bringing positivity to the chat and voice chats just makes me so happy. I've been out for about 2 1/2 years, and the members of ROSE have welcomed me with open arms and showed me what a queer positive space can look like."
"You all are some of the kindest, most inclusive people I've met!!!! Thank you all for being a safe space for me to be myself 💖💖"
"So happy to have found rose!!! Before I discovered this community (which is so wholesome and supportive 💖) I would often start my days by doomscrolling on other social media. Now I am able to check the discord, get a quick laugh and just feel so connected to others like me. It has made me infinitely more positive. Thank you everyone 🥰"
"Be your true self, spread your wings and fly, and pet lots of cute animals!!
It's been a difficult year but you powered through, good job!"
"ROSE is a wonderful and inclusive community I'm happy to be part of!"
"Congrats on getting through exam season! No matter how you did, remember to take care of yourself and be kind to yourself. Happy holidays :)"
"Remember to enjoy every sandwich."